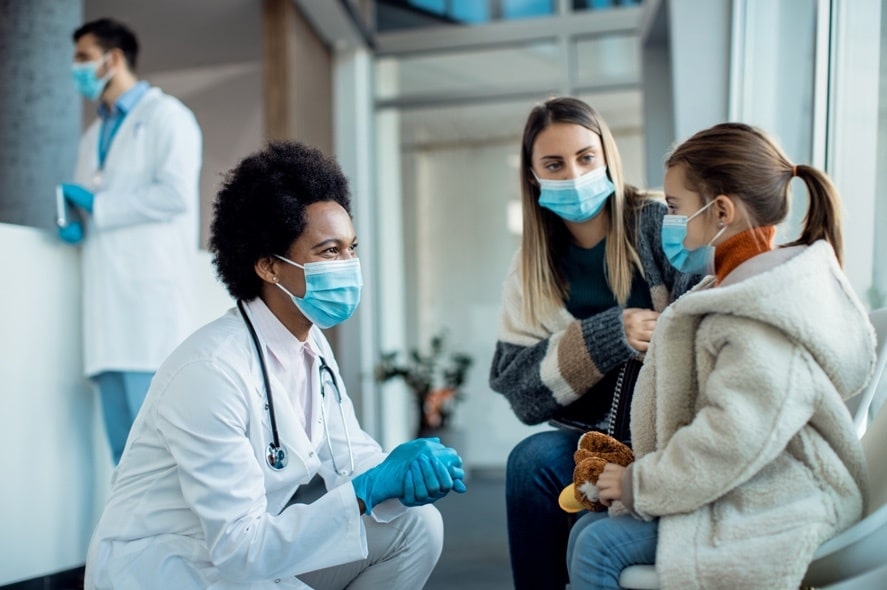 How This Healthcare Provider Delivered Top-Quality Patient Care During a Global Pandemic
When the COVID-19 pandemic swept the nation, healthcare providers nationwide struggled to pivot their practice operations to adjust to a new, socially distanced world. While in-office visit numbers took a nosedive, telehealth appointments skyrocketed—and healthcare providers relied on virtual waiting room solutions more than ever before.
Here's how one healthcare provider tackled the obstacles COVID-19 presented using Yosi Health's premier virtual waiting room solution.
Spike in Telehealth
Luckily for Dr. Rahul Khare, Founder & CEO of Innovative Express Care, his practice started using Yosi Health backin 2017—and when the pandemic hit, he breathed a sigh of relief. He was seeing roughly 2,500 telehealth patients a day.
"There's no way I could've had all of those registered beforehand—and 90% of them are pre-registered with Yosi," Dr. Khare said.
Yosi Health's innovative patient registration and engagement tools were critical for Innovative Express Care when it came to delivering top-quality patient care during the height of the pandemic. According to Dr. Khare, they managed to cut patient wait times in half with the pre-registration system.
"Patients get antsy if they're waiting for more than 10 minutes," he says. "It's human nature. With Yosi Health, it's literally so much easier. They don't have to hand me an insurance card or ID…they can just scan it. Not only is it easier for us and them, but it also decreases potential exposure."
With up to 1 in 5 patients saying they would switch providers for one that practices better COVID-19 safety protocols, creating a safe, secure patient experience is more important than ever—and virtual waiting room solutions are key to new or existing telehealth services.
Pop-Up COVID-19 Testing Centers
Like many other healthcare providers, Dr. Khare was quick to find ways to help provide COVID-19 testing for regional patients. He set up four pop-up COVID-19 testing centers. "That," he said, "is where Yosi Health has been huge help."
In addition to managing the spike in telehealth appointments, Dr. Khare needed to find an innovative way to manage a massive influx of new patients coming in through the testing centers.
"Our name is 'innovative,' so one of the things I like to do is use innovative technology like Yosi to enhance the patient experience and change the way healthcare is delivered," he says. "When we have such a high volume of patients, they can fully pre-register before they arrive and immediately be seen by a provider. They've really enabled me to continue pushing the envelope in everything I do."
Shortly after, Dr. Khare began offering antibody testing services as well. "It was a month after we started doing COVID-19 testing, and everyone wanted to know if they had the antibodies," he says. "We were one of the first practices in our area to do so."
Not only was Innovative Express Care booked out a month ahead for telehealth appointments, but they were facing a new hurdle: Most of the testing patients are brand new to the practice. "I think 80%, maybe even 95%, of testing patients we'd never seen before," Dr. Khare explains.
With Yosi Health's patient pre-registration system already in place, they were able to quickly and efficiently get these new patients into their system.
Because they'd talk to a provider via telemedicine before their antibody appointment, Dr. Khare made patient pre-registration a universal requirement. "We would send them to the clinic for an appointment. The beautiful thing about Yosi was being able to register them for telehealth, getting their insurance, and everything ahead of time. If they didn't, our providers or a nurse would've had to call or register.
Dr. Khare laughs remembering an appointment he had with his daughter's pediatrician recently. "Someone called me beforehand and verified everything, and I was kind of like, 'What are you doing?' This shouldn't happen. Why are you calling me to do a telemedicine appointment? You're increasing work!"
"With Yosi, in one glance, you can see their uploaded card, their uploaded ID, all of their questions are answered, and they're done," he continues. "That's where I was pretty impressed with them as well."
How Your Practice Can Thrive
With Yosi Health, Dr. Khare was able to easily pivot his practice in the face of COVID-19. With 90% of patients pre-registered out of an average of 2,500 patients seen daily, he was able to help accommodate the new atmosphere of healthcare delivery during a global pandemic.
Discover how Yosi Health helped Innovative Express Care provide a better overall experience for both patients and providers during truly unprecedented times. Access the case study below to learn more.