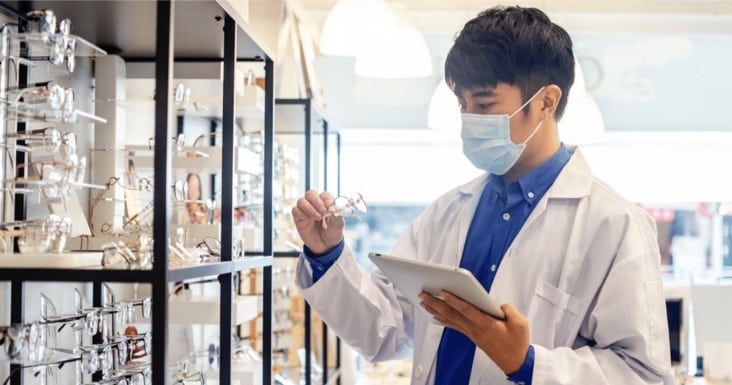 4 Ways a Virtual Waiting Room Solution Transformed This Optometry practice
Virtual waiting room solutions are revolutionizing the way healthcare providers deliver patient care. By implementing a fully digital registration, intake, and engagement platform, doctors of every and any specialty are able to save time and cut costs across their practices.
In August 2020, Kopolow & Girisgen Doctors of Optometry were looking for a digital patient registration system that fully integrated with RevolutionEHR, their EMR system. That's when Chris Moran, Director of Business Development, discovered Yosi Health.
"Yosi was the first virtual waiting room solution we found that fully integrated with RevolutionEHR," he says. "We never pulled the trigger on other platforms because they didn't have the same capability. If it wasn't something that made it easier, then what was the point?"
With 19 offices across Las Vegas seeing 10,000 patients a month, Moran knew that Yosi Health could be a game-changer for their practice.
Here are five ways Yosi Health's premier virtual waiting room solution transformed their operations and improved both the patient and provider experience.
1. Automatic Insurance Verification & Medical History
When Moran saw that patients had the ability to upload ID and insurance cards directly to RevolutionEHR prior to their visit, he knew Yosi Health was the right choice.
"Once Yosi came out and we saw patients could take pictures of their driver's license, their insurance card, and upload it directly to Revolution, it saved us a ton of time," he says.
Beyond their basic insurance information, Yosi Health took it a step further. Moran worked with their team to fully automate their patient medical history forms—a critical, and typically lengthy, set of paperwork specific to optometry practices.
"We took the workflow directly from RevolutionEHR in the history portal, Yosi re-created it in their platform, and now, the patient is able to fill it out prior to coming in," he explains. "This way, the staff doesn't have to sit with the patient and go through the full history in Revolution. That's been a huge time-saver for us in the office."
Moran estimates they're saving roughly 15 minutes per patient by eliminating the need to scan, copy, print, and organize their medical history—let alone the insurance verification.
With those extra 15 minutes, Kopolow & Girisgen Doctors of Optometry has been able to completely revolutionize the way they schedule appointments to accommodate more patients.
2. Flexible Patient Scheduling to Accommodate Walk-Ins & No-Shows
"Yosi has allowed us to completely change the way we schedule," Moran says.
Before Yosi, Kopolow & Girisgen Doctors of Optometry used to schedule appointments every 15 minutes, seeing four patients per hour. When a patient didn't show up for an appointment and a walk-in arrived, they didn't know if they were able to complete their information and verify their insurance quickly enough to fit them in.
With the time Yosi helped them gain back, they're able to accommodate potential no-shows or last-minute appointments.
"Because of Yosi and how quickly we get things done, what it allows us to do is say, 'At 9:15am, only two of the four patients showed.' So now, we can take two walk-ins and we have the time to get it done because Yosi has shortened the time it takes us to complete the paperwork," he explains. "The insurance cards are already scanned so I can send it over to billing to get verified. Basically, Yosi has allowed us to see more patients because we're able to schedule differently."
3. Minimized In-Person Contact
Kopolow & Girisgen Doctors of Optometry adopted Yosi during the height of the COVID-19 pandemic—and according to Moran, it was the perfect time.
Across their 19 practices, Moran says, Yosi has helped them minimize in-person contact to not only promote a safer environment and bring patients peace of mind, but also to help them minimize the time spend on patient administration.
"The more paperwork our patients do prior to coming in, the less chance they have of being exposed and of our providers being exposed—and they understand that," he says. "We tell them that because of COVID, we're paperless. They cannot come in and we will not see them until their paperwork is done."
Prior to COVID, many healthcare practices struggled to get patients to complete their paperwork virtually prior to coming in. Today, Moran says, patients accept when you tell them that they've gone paperless. 
Patients may not understand the efficiency paperless intake and registration grants healthcare providers, but they absolutely understand the importance of minimize in-person contact during a global pandemic.
4. Saved More Than $3,200 a Month on Printed Materials
For larger organizations like Kopolow & Girisgen Doctors of Optometry, there are a significant amount of forms patients are required to fill out—especially in the optometry field.
"You have HIPPA, patient guarantees, ABM forms, medical history….I'd say on average, there are roughly eight forms per patient," Moran says.
With 10,000 patients a month and his estimate cost of $0.04 per B&W printed form, they're saving roughly $3,200 per month in printed materials alone—and that's not including the price of a reliable, quality scanner to then upload each patient form into their EMR system.
"With RevolutionEHR, Yosi uploads all of those forms into the patient chart automatically," Moran says. "When we're calculating the costs of not only those printed materials, but also scanners and the time our staff had to spend manually scanning all of the patient documents into our system, the savings are incredible."
5. The Biggest Benefit of a Virtual Waiting Room Solution
Moran has seen countless benefits come out of using Yosi Health's premier waiting room solution, but there's one that outweighs them all.
"The bottom line is that we have more time to give to the patient," he says. "It's helped us help them."
Interested in exploring all of the ways Yosi Health revolutionized Kopolow & Girisgen Doctors of Optometry? Explore the case study today to see how our premier virtual waiting room solution helped improve their practice across the board.